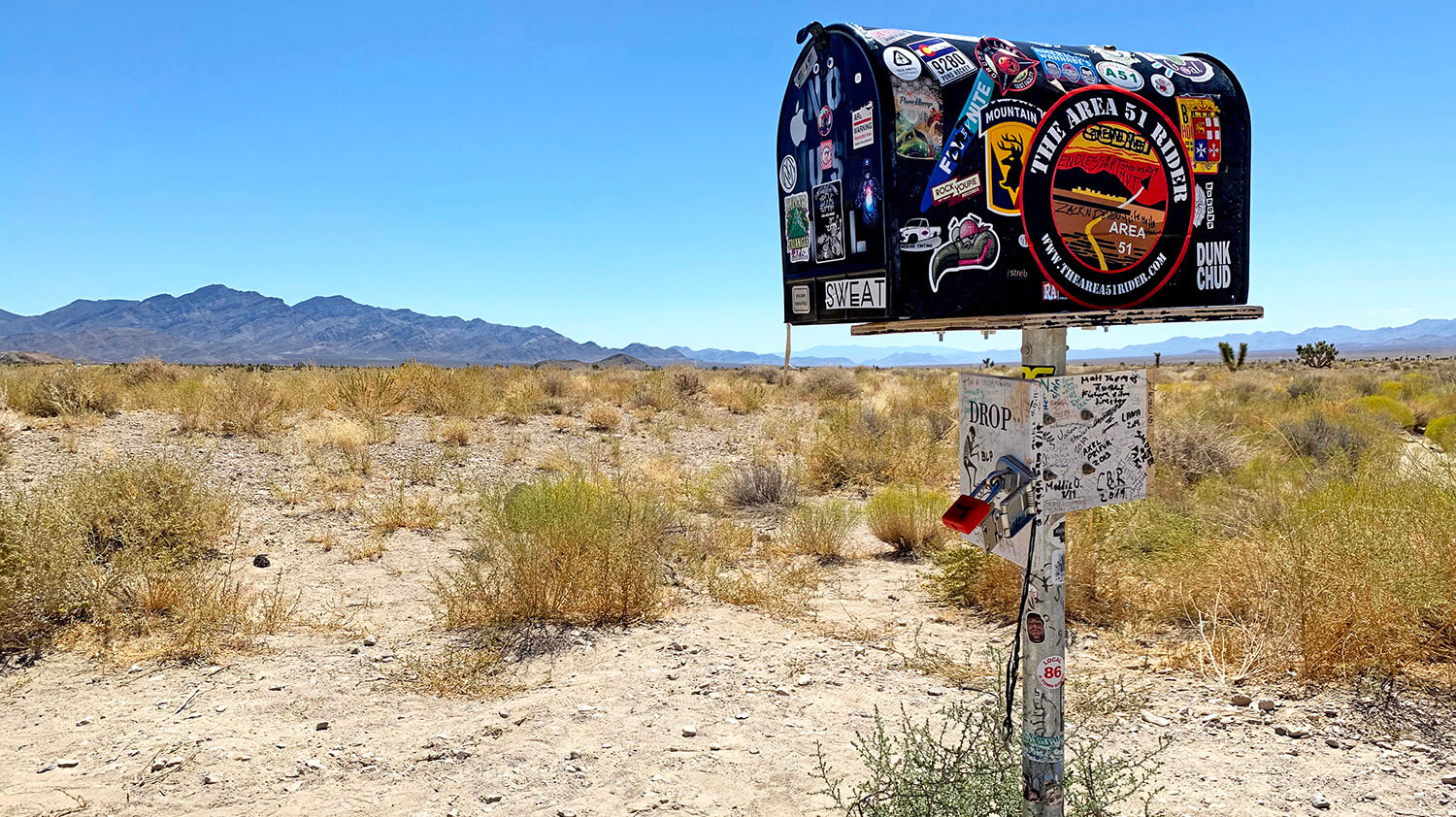 Hoping to have a close extraterrestrial encounter of your own? Thanks to its proximity to Area 51, the legendary Black Mailbox just may be your chance. Situated along Nevada State Route 375—or the Extraterrestrial Highway—The Black Mailbox has been a decades-long meeting place for the extraterrestrial-obsessed who gather near the mailbox to try their luck at eyeing a UFO, or better yet, communicating with life beyond.
Ever since former Area 51 employee Bob Lazar told imaginative tales of top secret government initiatives involving life from other planets, visitors and locals alike have traveled to this remote stretch of road in central Nevada, in hopes of an otherworldly encounter. Lazar famously claimed to have worked on and spotted regularly scheduled UFO flights along what's now known as the E.T. Highway, and would even bring people to the now-famous Black Mailbox as a meeting place, promising chances to spot alien spacecraft.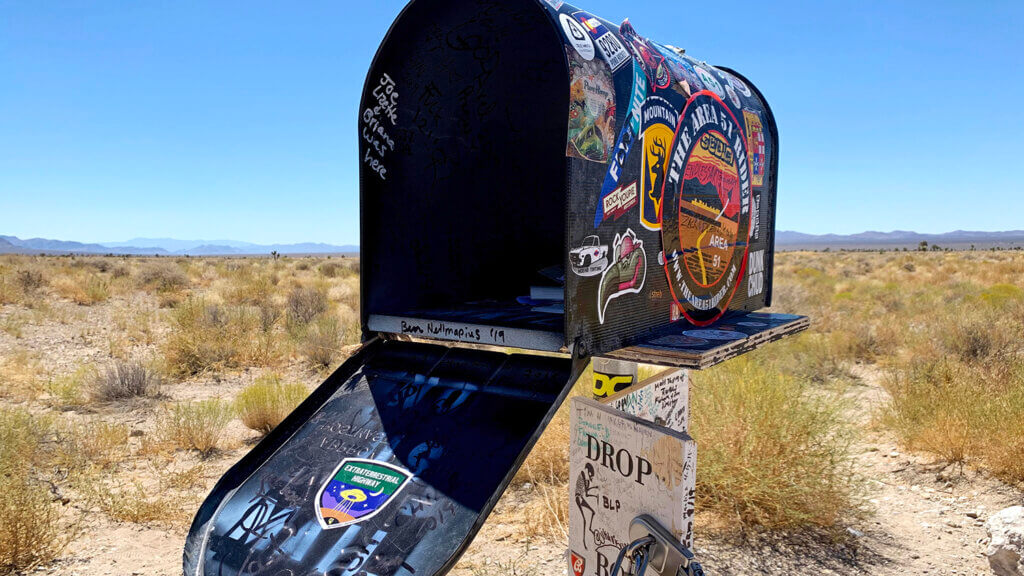 The not-so-lucky former owner of the mailbox, Steve Medlin, has lived and ranched in the area for years and has never believed in aliens, or seen any air traffic beyond U.S. military flights coming and going from this active military base. After decades of mail theft, vandalism, and the alien-obsessed straight up stealing his entire mailbox time and time again, Medlin moved his mailbox off the highway and closer to his ranch. In its place, ET Highway road trippers will find a new Black Mailbox for people visiting this Weird Nevada landmark, in hopes of communicating with life on other planets. The Black Mailbox is sometimes black, and sometimes painted white, made of thick metal, decked with security measures like sturdy padlocks and secured with concrete.
Know Before You Go
Interested in checking out The Black Mailbox? Good! Your trip along the Extraterrestrial Highway is incomplete without grabbing a series of pics next to it. Be sure to snag all the pics you want, but remember that this is an actual mailbox for Steve Medlin—be sure to treat this famous landmark like the mailbox it legally is.
Travel Nevada Pro Tip
Keep an eye out for the smaller, separate mailbox—that's The Black Mailbox. Leave messages for otherworldly visitors inside, or even dollar bills.
With less than 200 cars per day, the Extraterrestrial Highway is a remote stretch of road and doesn't see much traffic. Be sure to fuel up before leaving Tonopah or Alamo, and remember that cell signal along this route may be non-existent or spotty at best. The mailbox lies between Rachel and Alamo at the intersection of State Route 375 and Mail Box Road. If you get turned around or have problems spotting it, be sure to ask the folks at the Alien Research Center or Little A'Le'Inn for pro tips in locating The Black Mailbox, and even if you don't, be sure to swing through both of these see-it-to-believe-'em E.T. Highway stops.
This Location: