North Lake Tahoe
The #NevadaSide of Lake Tahoe is a bit more easygoing than its southern counterpart, and that's a lovely thing. But it sure doesn't mean there's a shortage of things to do in North Lake Tahoe. With several lakefront communities, some swanky resorts, and endless wilderness all around, North Shore Lake Tahoe visitors can make things as mild or wild as they want. Discover Travel North Tahoe Nevada and the unlimited fun you can find while you're here—on water or land, and in sunshine or snow.
In love with the Silver State as much as we are? Learn what you can do to help us keep the places we cherish special—and open—for us and future generations.
Explore the North Shore of Lake Tahoe
The one-third of Lake Tahoe that sits on the #NevadaSide is a little more easygoing (and a lot less developed) than California's slice, besides in the border towns of Crystal Bay and Stateline, where casino resorts always keep the party going. Up in North Lake Tahoe's several personality-packed communities, some seriously swanky resorts, bistros, and vacation rentals, right-there wilderness, and endless outdoor activities surrounding it all, North Shore Lake Tahoe visitors have the freedom to make things as mild or wild as they want any time of the year—on water or land, in the sunshine or snow.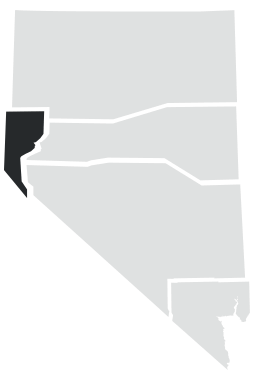 Average Temperatures
Summer
Fall
Winter
Spring
Expand
Things to Do in North Lake Tahoe
Winter Activities on the North Shore
When it comes to winter, North Lake Tahoe's outdoor action options ain't snow joke with limitless opportunities for skiing, ice skating, or sleigh riding. Home to two stunning Lake Tahoe ski resorts—and a pole's throw from ten more, including the Olympic-legendary Palisades Tahoe North Shore Tahoe skiers and riders can choose from leisurely beginner runs to double black diamond bombers, and everything in between.
Family-sized Diamond Peak Ski Resort wows with some of the best blue water vistas in the entire basin (trust us: they'll make you wanna slow your roll, no matter your shred cred), while Mt. Rose-Ski Tahoe boasts the highest base around (8,260 ft!) and legendary, white-knuckled chutes.
Meanwhile, off the slopes, you can literally dash through the snow on a one-horse open sleigh during narrated (with history, seasonally appropriate carols, and even poetry), one-hour, private tours along the breathtaking edge of Lake Tahoe, with Borges Sleigh and Carriage Rides, who've been sleighin' that charm game since 1967. And if snowshoeing, cross-country skiing, or snowmobiling calls your name, Mt. Rose Meadows is right up the hill, too.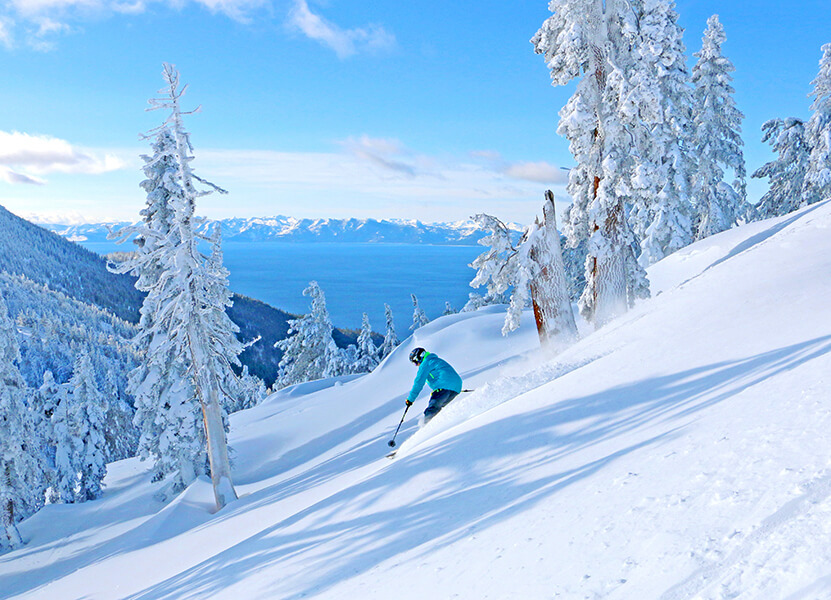 Lake Tahoe Activities in the Summer
In the summer, the choices are just as limitless. With pristine North Lake Tahoe beaches, mountain biking bucket-listers, and dozens of classic hikes kissed by one of the crispest, clearest, bluest bodies of water in the United States (they don't call Lake Tahoe the "Jewel of the Sierra" for nothin'), you're gonna wanna dive into the North Shore's warm-weather wonderment. There's a reason more than a million beach bums throng it up at Sand Harbor (and nearby Kings Beach, just across the border), and we're here for it. But that's hardly the only way to soak in the summery splendor of North Lake Tahoe.

Hands-down, there's no better way to experience the North Shore's range of scenery than at Lake Tahoe Nevada State Parks, made up of several unique and distinct "units." Spooner Lake and the Marlette / Hobart Backcountry offer off-grid bliss for anglers, hikers, and cross-country mountain bikers—as well as magazine cover-worthy views from the world-renowned Flume Trail. The Cave Rock day-use area boasts a boat launch and beach. The Highway 28 corridor is dotted with secluded, gotta-earn-it-yourself spots accessed by trail or water. And then there's world-renowned Sand Harbor, North Lake Tahoe's biggest and most striking sandy beach, where throngs of sunbathers, boaters, SUP-ers, and picnickers party 'til that epic Tahoe sun goes down.
Lake Tahoe History
"As it lay there with the shadows of the mountains brilliantly photographed upon its still surface, I thought it must surely be the fairest picture the whole earth affords."
That's how Mark Twain described Lake Tahoe in his timeless Nevada tale-filled tome, Roughing It.
A generation later, Lake Tahoe's grandeur also captured the heart of an eccentric early-20th-century jillionaire (and "accidental conservationist"), George Whittel, Jr., who purchased 40,000 acres of east and north Tahoe. Known in his day for riding fast cars with a live lion as his copilot, he is appreciated today for eventually selling his holdings to the State of Nevada—unspoiled shoreline and mountainside that would become the first swathes of Lake Tahoe Nevada State Parks (and the reason the #NevadaSide remains so relatively undeveloped). You can still tour his palatial waterfront residence, the Thunderbird Lodge.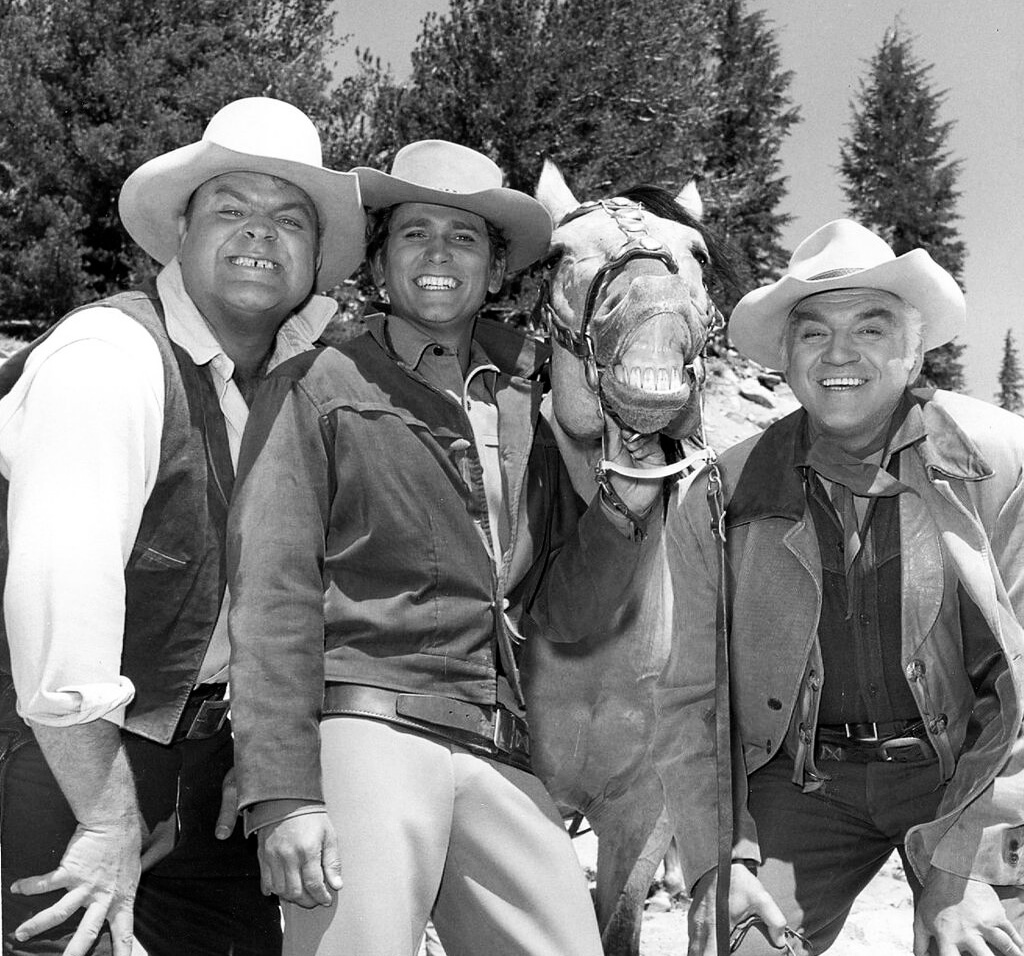 By the mid-20th Century, Lake Tahoe was on the map as a getaway for gamers, wealthy leisure travelers, and celebrities—including to Crystal Bay's state-straddling Cal-Neva Lodge, a former Prohibition-era speakeasy, once owned by Frank Sinatra (and his buddy Dino), and supposedly escaped to by a couple of famous clandestine lovers by the names of Jack and Marilyn. Meanwhile, more Hollywood action took place just around the lake's rim at the Ponderosa Ranch, the setting for TV's iconic western Bonanza for 14 seasons.
Events in Lake Tahoe
In Travel North Tahoe Nevada, "all the [sand's] a stage…" at least each July through August, when the much-loved annual Lake Tahoe Shakespeare Festival brings classical theater to the beach at postcard-perfect Sand Harbor Nevada State Park, with a schedule featuring the best of "The Bard," and some fun, modern productions, too. Culture vultures also flock to Classical Tahoe Festival, a three-week, midsummer celebration of orchestral live music, drawing the best symphonies, orchestras, and classical musicians from around the country.
Concert lovers know that visiting North Lake Tahoe always sounds fun, but often also loud and groovy. Crystal Bay Club is North Lake Tahoe's live music hotspot, especially for bluegrass, jam bands, funk, and electro—most with wild afterparties. In December, the Northern Lights Tahoe fest packs a month's worth of live music, film, and special events. From outlaw country to EDM to the California Honeydrops' annual, all-night Crystal Bay Club groove fest, there's something amazing to see, hear, or do every single day and night.
Travel Nevada Pro Tip
Coming in July or August? "Playing" in the sand takes on a whole new meaning at Sand Harbor's annual Lake Tahoe Shakespeare Festival. As if watching classic theater with an unbeatable "Big Blue" backdrop weren't enough, sweeten the deal by packing your mini-cooler with a picnic dinner and a bottle of vino, too.
Meanwhile, every February, winter sports lovers unite for Alpenglow Mountain Festival, a nine-day, mostly free celebration of human-powered mountain sports. Clinics, equipment demos, films, and over 75 events showcase backcountry skiing and splitboarding, cross-country skiing, snowshoeing, natural history, yoga, live music, educational workshops, social gatherings, and more.
Restaurants in North Lake Tahoe
Split between the two famously culinarily inclined states of California and Nevada, it's no surprise that loads of Lake Tahoe restaurants cater to every craving. For grab-and-go goodness, bag a tri-tip burrito at T's Mesquite Rotisserie and head to the beach. After cruising the Tahoe East Shore Trail, reward yourself with burgers, sandwiches, espresso, and craft brew at the Tunnel Creek Café, which is perfectly perched at the path's starting point, as well as at the tastiest tail-end of the famed Lake Tahoe Flume Trail—complete with a bike rental shop.
For your pick of one-stop elevated appetite indulgence, head for the Hyatt Regency Lake Tahoe Resort, Spa & Casino, a beautiful lakeside property with several dining options. Our faves? In the summer, the Pier 111 Bar, for tasty light fare and killer cocktails with crystal-clear Tahoe vistas on the side (actually, four sides—the place is on the end of a private, 275-foot-long floating pier.) And in wintertime, no matter what you do by day, make sure you end it with a nice, warm, spot-hitting, beachfront après-whatever beverage by a fire pit at the Lone Eagle Grille and Lounge.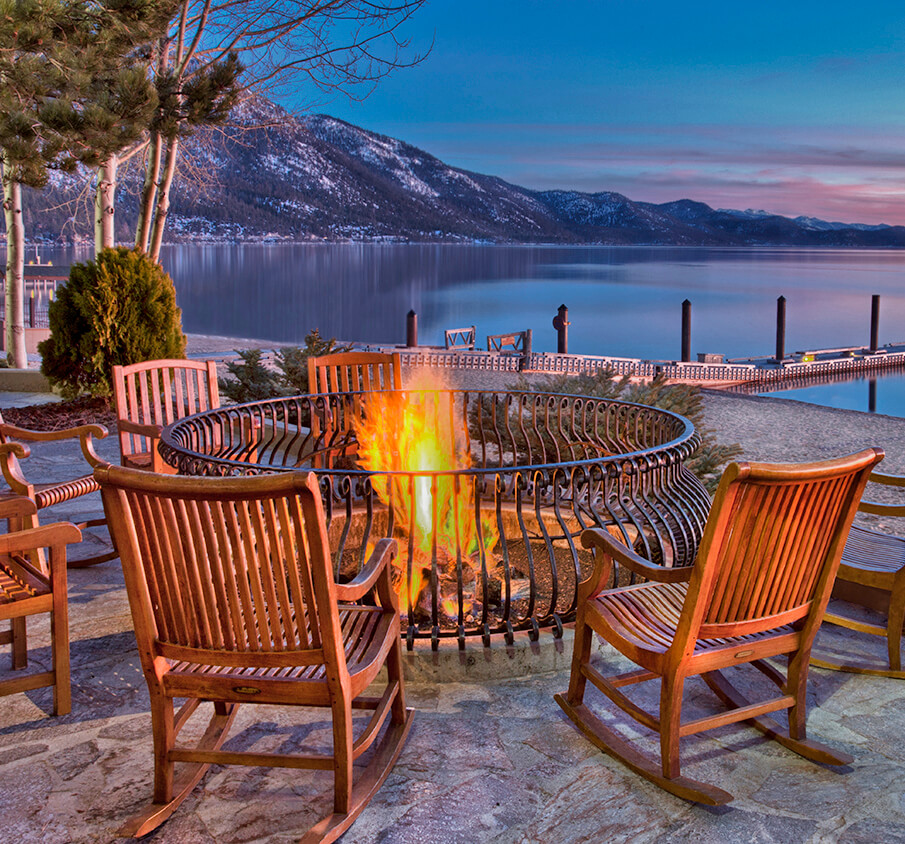 North Lake Tahoe Hotels & Casinos
They named it Incline Village, and they weren't wrong. Ski slopes, two beautiful golf courses, hiking trails galore, and sandy views of Lake Tahoe, ringed by alpine peaks, are some prime reasons to stay and play at some of the lake's primo North Lake Tahoe properties.
You already know we love dog-friendly the Hyatt Regency Lake Tahoe Resort, Spa and Casino for its private beach and deluge of dining. But we're also fans of more rustic (yet still glam) options like Parkside Inn at Incline, and Club Tahoe Resort's family-fitting condos.
Escape extravagantly to the flashiest parts of North Lake Tahoe, where exciting nightlife and entertainment await you. While North Lake Tahoe might be primarily known for Tahoe's quaint crystal-blue shores and surrounding massive granite peaks, few might know that you won't have to miss out on nightlife and gambling, either. Visit North Lake Tahoe casinos such as the Hyatt Regency Lake Tahoe Resort & Spa in Incline Village to test your luck at the famous Grand Lodge Casino, offering more than 270 slot machines and more than a dozen table games. Also situated on the north shore of Lake Tahoe and only a few feet from the California/Nevada state line lies the Crystal Bay Casino & Border House, offering exquisite lodging, gaming, dining, weddings, and world-class entertainment.
Featured
Places to Stay in North Lake Tahoe
#TravelNevada
Whether you're slayin' some pow, sleighin' through boughs, or simply sayin' "WOW" on your North Shore Lake Tahoe excursion, tag your shots with #TravelNevada and #TahoeNorth and you might just see 'em right here.