Death Valley Rally
Las Vegas to Death Valley and Beyond
Route Distance
Up to 370 mi
Suggested Time
3 or 4 Days
Nothing is more extreme than a road trip from Las Vegas to Death Valley National Park—or rather, nothing has more extremes. We're talking the lowest point in North America and nearly 12,000-foot Mt. Charleston. Rugged biker bars and elegant wineries. Sprawling sand dunes and ancient bristlecone pines. Ghost towns and… well, Las Vegas. These are just a few of the mesmerizing contrasts you'll attempt to wrap your mind around on this classic Nevada road trip but a kaleidoscopic stone's throw from one another along the very same route. So pack your sunscreen, sandals, gloves, and sweater, and come get extreme on the Death Valley Rally.
Highlights
Discover Death Valley: the hottest, driest, and lowest place in North America

Ponder the past in Rhyolite, one of the West's best ghost towns

Hike (or even snowshoe) among 5,000-year-old bristlecone pine forests
Las Vegas to Death Valley National Park
From One Extreme To Another and Back Again
With its stark terrain, tenacious wildlife, and thermometer-shattering climate, Death Valley National Park is the perfect centerpiece for a route marked by more extremes than any other. You'll kick off this Las Vegas to Death Valley road trip at an oasis and legendary hiker's paradise—mere minutes from the wild, bustling Strip—before cruising through friendly, small-town Nevada on to one of the hottest and driest places on Earth. After exploring its world-famous features, including the lowest point on the continent, the Death Valley Rally carries you back to civilization by way of a camera-hogging ghost town, the Lower 48's largest national wildlife refuge, and 11,916-ft Mt. Charleston, Nevada's fifth-tallest peak.
Glovebox Essentials
Prepare for Your Adventure
Get ready to come chase some horizons with this handy tool kit. Here, you'll find all the Death Valley Rally road trip essentials, including downloadable directions, maps, and podcasts, and tunes to complement your upcoming adventure.
Expand
It's Rally Time
Death Valley Rally: Take It to the Extreme
As full of surprises as Nevada always is, few road trips cover as many contrasts as three days on the Death Valley Rally. From 279 feet below sea level to 12,000-foot mountains, beautiful wineries to badass biker bars, ghost towns to one of the country's biggest metros, and plenty in between, get warmed up for the most extreme ride of your life.
Leg 1
Blast Off Beyond the Neon
You could shoot from Las Vegas to Death Valley in under three hours. But you'd miss Red Rock Canyon, biker bars and wineries, and all the #WeirdNevada wonderment along the way.
Leg 2
Death Valley National Park: Hot Damn
Straddling the Nevada-California border, discover Death Valley, the largest national park in the Lower 48, and the hottest, driest, and lowest of in the entire country.
Leg 3
Mining Towns & Millions of Acres of Wilderness
Loop back to Las Vegas by way of Rhyolite Ghost Town, legendary Sagebrush Saloons, the Lower 48's largest wildlife refuge, and ancient Bristlecone-studded mountains.
Leg 1
Las Vegas to Pahrump via Red Rock Canyon
Up to 130 miles
Leg 2
Pahrump to Death Valley to Beatty NV
170+ mi
Despite that ominous name, Death Valley National Park is a landscape alive with incredible beauty. Enter from Highway 190 and get the lay of the land from Dante's View and gaze 5,760 feet down to Badwater Basin salt flats and, on clear days, out to Mt. Whitney—the highest and lowest points in the Lower 48. Hit Furnace Creek Visitor Center, then spend the day exploring landmarks like kaleidoscopic Artist's Palette, sea level-defying Badwater Basin, Star Wars fan faves Golden Canyon and Mesquite Flat Sand Dunes, and more, before bedding down in Beatty.
Leg 3
Home Stretch: Beatty NV to Las Vegas
170+ mi
Before blasting back to Vegas, escape to a 6,700′ mountain lodge for stargazing, drinks by the fire, and panoramic views at the Retreat on Charleston Peak. If that neon glow beckons, go retro in Downtown Las Vegas.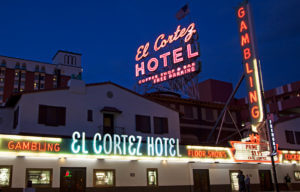 El Cortez Hotel and Casino
Las Vegas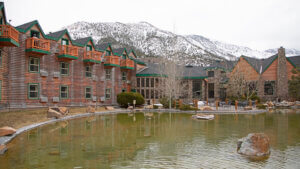 The Retreat on Charleston Peak
Las Vegas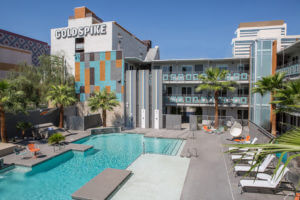 Oasis at Gold Spike
Las Vegas
There's a lot to see on the road from Beatty to Las Vegas. Take your pick of museums, a ghost town and unconventional sculpture park, or parks and wild lands packed with recreational activities and unique flora and fauna.
Rhyolite Ghost Town
Beatty
Spring Mountains National Recreation Area
Las Vegas
Desert National Wildlife Refuge
Las Vegas
Nevada National Security Site Tour
Las Vegas
Goldwell Open Air Museum
Beatty
Beatty Museum & Historical Society
Beatty
Area 51 Alien Travel Center & Brothel
Amargosa Valley
Tule Springs Fossil Beds National Monument
North Las Vegas
View All
Head back to Happy Burro for a chili burger breakfast, or cruise up to 6,700 feet for "elevated" eats, from butternut squash soup to tomahawk steaks, in the Canyon Restaurant & Tavern Bar at the Retreat on Charleston Peak.
Happy Burro Chili & Beer
Beatty
Area 51 Alien Travel Center & Brothel
Amargosa Valley
Hitting the Road? Here's the Map.
Our 10 Nevada Road Trips
Searching for road trip ideas? Look no further. Go ahead. Scroll around and click the road trip icons for the inside scoop on Nevada's 10 best road trips, with detailed itineraries, maps, and tips for getting off the beaten track.
#DeathValleyRally
You'll have an extremely awesome time sightseeing this scenic slice of Nevada life. And don't forget to tag #DeathValleyRally so we (and everyone else) can see how you conquer this lively expedition. 
True Tales & Travel Tips
Featured Stories
Get our takes on must-experience attractions, excursions, restaurants, and lodging—as well as plenty of pro tips on visiting ghost towns, parks, historic sites, and far more—all curated by those who know this wild state by heart.