Extraterrestrial Highway
Beam yourself up on an out-of-this-world adventure
Route Distance
100+ miles | Loop from Las Vegas: 470 mi
Welcome to Alien Country. We can neither confirm nor deny the rumors of alien spacecraft, top secret technology, or little green dudes on the payroll. One thing we can promise? When you pilot your vessel along the wide-open roads through this otherworldly wilderness, with that warm wind in your hair (or antennae…), you'll get why a "visitor" would cross the galaxy to enjoy this slice of the Silver State. Feast your curiosity on alien-themed everything; explore (in)famous Extraterrestrial Highway landmarks, like the Black Mailbox and Little A'Le'Inn; and get ready to meet some friendly humans who don't need a phone to call these lovably odd locales home.

Highlights
Pose with alien murals and savor spacey snacks at E.T. Fresh Jerky

Shop for spaced-out souvenirs at the Alien Research Center gift shop

Hear locals' tales over Alien Beers and Saucer Burgers at the Little A'Le'Inn
Blast Off on the Extraterrestrial Highway
One Spaced-Out Trip Through Nevada's Alien Country
In the wide-open belly of Nevada, there lies a mystery. The Extraterrestrial Highway runs past the Nevada Test and Training Range, including the Nevada National Security Site and that infamous portion known as Area 51—a top secret part of the base that the government didn't even admit was real until 2013—where countless strange "UFO" sightings have been reported. So keep those eyes peeled, because you're guaranteed to see some weird stuff. Up in the sky? Maybe. On the ground: 1000%. If an alien themed jerky shack, a knick-knack packed "research center," a UFO-motifed bar-café, and spectacular night skies full of stars (and other things?) get your radar beepin', then treat yourself to an unforgettable voyage along state Route 375.
Glovebox Essentials
Prepare for Your Adventure
Get ready to come chase some horizons with this handy tool kit. Here, you'll find all the E.T. Highway road trip essentials, including downloadable directions, maps, and podcasts, and tunes to complement your upcoming adventure.
Expand
THE TRUTH IS OUT HERE
Going galactic on the E.T. Highway
The open desert outside Area 51 has long attracted paranormal enthusiasts, die-hard UFOlogists (it's a thing), and kitsch-inclined road trippers alike. Although you can't visit the base itself, from spaced-out cafés and curio shops to massive Lunar Crater, our Extraterrestrial Highway road trip promises memories of astronomical proportions.
Leg 1
Getting "Out There"
Blast off from Las Vegas on a course for Crystal Springs. Or, en route, brake for birds at oasis-like Pahranagat and tack on side-trips to other gloriously unusual locales.
Leg 2
The E.T. Highway
Pick up state Route 375—the section of road officially designated the "Extraterrestrial Highway"—in Crystal Springs and get ready for some truly "out there" attractions.
Leg 3
Complete the Orbit—Tonopah, then back to Las Vegas
Instead of day tripping all the way back to civilization, make it a one-night orbit from Las Vegas to Tonopah and back to get the most bang for your alien-adoring buck.
Leg 1
Las Vegas to the Extraterrestrial Highway
110+ miles
So where is the Extraterrestrial Highway anyway? Answer: what most people would call the middle of nowhere. And that's what makes it such an iconic road trip. From Vegas, chart a course about 1.75 hours north to Crystal Springs. Some voyagers endeavor to rocket there and back as a day trip, but that's a bold mission. Instead, we recommend making it a proper road trip, with a night stop in Rachel or Tonopah. Which also earns you time to check out more otherworldy landscapes on your way to the E.T. Highway.
Sunset View Inn is the sole indoor option around here, offering rooms uniquely themed rooms—like aliens, the Wild West, hippie vibes, and "Under the Sea"—along with the opportunity to why they gave this place its name.
If you've got time before you hit Route 375, take it. Pahranagat's watery grandeur lures thousands of migratory birds from the sky, while these other pockets of central Nevada may make you feel like you're on Mars.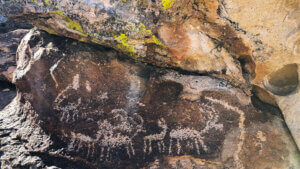 Mt. Irish Wilderness Area
Alamo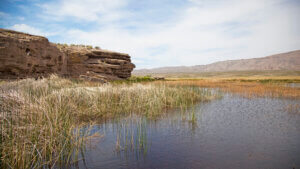 Pahranagat National Wildlife Refuge
Alamo
City, by Michael Heizer
Nearest Alamo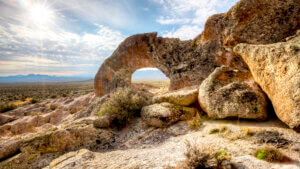 Basin and Range National Monument
Caliente
Desert National Wildlife Refuge
Las Vegas
Key Pittman Wildlife Management Area
Alamo
View All
Leg 2
Crystal Springs to the tiny town of Rachel and beyond
40 to 225 miles
Strike your best "I-come-in-peace" pose at the

Extraterrestrial Highway

sign

Score space swag and taste Alien Tequila at the Alien Research Center
Leave a message for other voyagers at the infamous "Black Mailbox"
Tank up in Alamo or Ash Springs (your next chance is 52 miles away at the Alien Cowpoke in Rachel), then snag snacks at E.T. Fresh Jerky, where you can pose with life-size, mural-ized "out-of-towners" and cross "drop your toxic waste in the cleanest restrooms in Area 51" off the bucket list. Head a mile west to the iconic Extraterrestrial Highway sign, then launch onto state Route 375. Don't miss the Alien Research Center (thanks to the giant, silver space dude… you can't), the Black Mailbox, or the Little A'Le'Inn in eccentric Rachel, the only "town" for miles.
Travel Nevada Pro Tip
When it comes to Area 51—or any military property—don't be a space invader. Trespassers
will
be caught and prosecuted… or worse. No selfie's worth that headache.
The only place to stay out here is the tiny town of Rachel, home to funky multi-room "units" (AKA spiffed-up portables) and a free VHS library (guess the dominant genre). The next rooms are 110 miles further in Tonopah.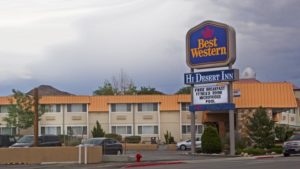 Best Western Hi-Desert Inn – Tonopah
Tonopah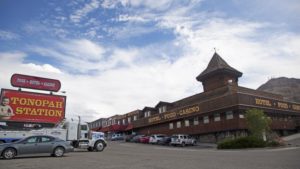 Tonopah Station Hotel and RV Park
Tonopah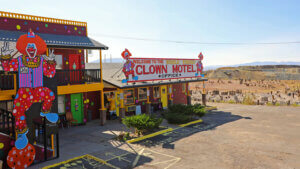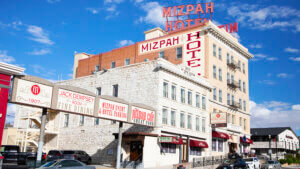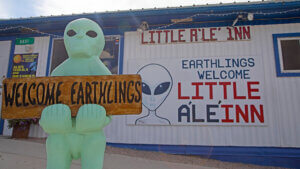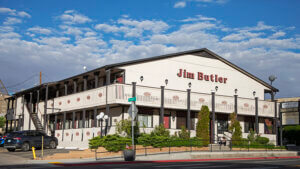 Jim Butler Inn & Suites
Tonopah
View All
Peruse the Alien Research Center for UFO books and souvenirs "from" Area 51. Stash surprises for future travelers at the Black Mailbox. Then stock up on space-themed swag and snap iconic photos at the Little A'Le'Inn.
Alien Research Center
Hiko
Alien Cowpoke Gasoline & General Store
Rachel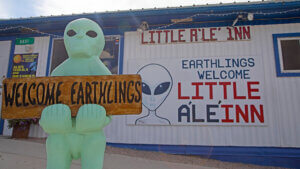 View All
It's all allegedly terrestrial in origin, but E.T. Fresh Jerky is still pretty out-of-this-world. Dine down the road at Little A'Le'Inn, the closest café to Area 51—which dutifully serves Saucer Burgers and Alien Beers.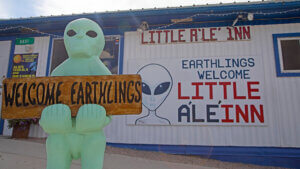 Alien Cowpoke Gasoline & General Store
Rachel
Leg 3
To Tonopah and Beyond
Up to 210 miles
Whether you're coming in for a landing from cruising the E.T. Highway, or sticking around for a day in the "Queen of the Silver Camps," Tonopah offers more to explore. Trade aliens for poltergeists at some "Ghost Adventures"-certified haunts—both of which you can stay the night in. Get a less spectral, hands-on glimpse of history touring a legend-filled museum, a 100-acre mining park, or nearby ghost town (complete with a saloon). Then hit the Free-Range Art Highway for more #WeirdNevada wonderment en route back to Vegas.
Travel Nevada Pro Tip
Venturing this way via the Free-Range Art Highway? Enjoy your time in Tonopah, then aim for the E.T. Highway via US-6 and follow this trip in reverse.
Keep the paranormal vibes up at luxurious, 1907-built The Mizpah Hotel (watch out for their permanent guest, the Lady in Red), or the infamous Clown Motel—which is exactly what it sounds like, with a bonus cemetery next door.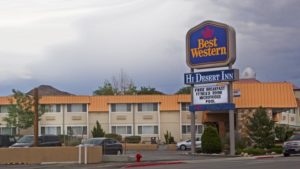 Best Western Hi-Desert Inn – Tonopah
Tonopah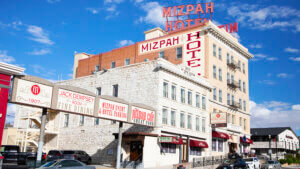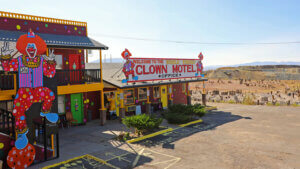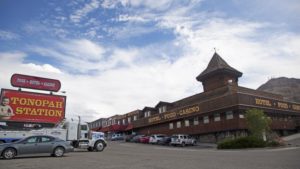 Tonopah Station Hotel and RV Park
Tonopah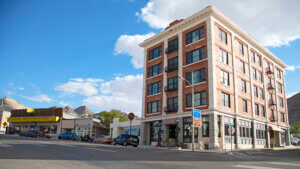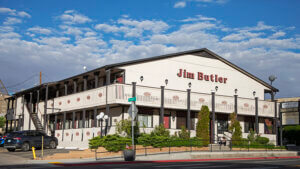 Jim Butler Inn & Suites
Tonopah
View All
A 35-mile detour takes you to Lunar Crater, a spot so unearthly that it was used to train Apollo astronauts for moon-like conditions. Then head to town to discover mining history and some of the nation's best stargazing.
Tonopah Historic Mining Park
Tonopah
Crescent Sand Dunes
Tonopah
Area 51 Alien Travel Center & Brothel
Amargosa Valley
Central Nevada Museum
Tonopah
Lunar Crater National Landmark
Tonopah
View All
Brisket and other BBQ staples star alongside fresh craft beers—named after terrestrial-bound riches found around this historic mining camp—at Tonopah Brewing Co., a beloved local smokehouse and on-site brewery.
Tonopah Brewing Company
Tonopah
BYO telescope or buddy up with an astro pro for celestial celebrations at the Tonopah Stargazing Park. Or get wild with some classic old-school Nevada spirit at the annual Jim Butler Days & Nevada Mining Championships.
Hitting the Road? Here's the Map.
Our 10 Nevada Road Trips
Searching for road trip ideas? Look no further. Go ahead. Scroll around and click the road trip icons for the inside scoop on Nevada's 10 best road trips, with detailed itineraries, maps, and tips for getting off the beaten track.
#ETHighway
The truth is out here, and we've got the photos to prove it. Tag #ETHighway to share your UFO sightings, otherworldly experiences, and extraterrestrial evidence with the world. 
True Tales & Travel Tips
Featured Stories
Get our takes on must-experience attractions, excursions, restaurants, and lodging—as well as plenty of pro tips on visiting ghost towns, parks, historic sites, and far more—all curated by those who know this wild state by heart.