Find Your Flavor: Nevada's Signature Dishes
Hungry for adventure? While Las Vegas has long been one of the culinary capitals of the entire planet, and Reno has cooked up a vibrant foodie-focused cuisine scene—both offering everything you could hope for and more—amazing eats abound all over the Silver State.
Obviously, a complete menu is far too long to list here. However, whether they're gotta-get-it-here signature flavors or simply classics with a Nevada-style flair, there are certain dishes you and your (taste) buds deserve to know about before you order up your visit. Here's a sample of some of our favorites.
From Basque feasts to sweet treats, dig into some of our favorite Nevada eats.
Basque Joints & Dinner Houses
Northern Nevada
Travel Nevada Pro Tip
If you show up to a Basque joint at lunchtime, don't think; just order the steak sandwich. They're all different, and they're all amazing. Oh, and when they ask you if you want garlic, the correct answer is always "
absolutely
." Especially at
Toki Ona
, the
Star Hotel
, and The
Martin Hotel
.
When you come to Nevada, bring your appetite. That's what the Basques did when they emigrated from the Pyranees Mountains (between Spain and France) to the Great Basin in the 19th century, heartily influencing northern Nevada's culture—and restaurant menus—forever. The best way to find out what this means is one course at a time, at a historic Basque dinner house. 
Most Basque joints do things "family-style"—a hat tip to the days of solo sheepherders bunking upstairs—so be prepared to make some new friends at your table as you share unlimited soup, salad, table wine, and sides (we're talking beans, greens, and… french fries), and maybe even a few bites of your own garlic-loaded steak, chorizo, braised lamb shank, oxtail soup, or (if you're adventurous) sweetbreads. Word from the wise: just go easy on the Picon Punch.
Some of Our Faves:
Chorizo Sandwiches
Reno, Carson City, Ely
Alright, you got us. This is another one of our state's Basque tastes, but we had to make it its own section. There's just something about Basque-style chorizo that sets it apart—from other chorizo and, really, anything else.
Unlike other chorizo varieties, the Nevada Basque-style marvelous mixture is made of chopped pork (as opposed to ground), air-cured, and usually delivers a pikantea (and sometimes oso pikantea) kick in the taste buds. 
Typically, chorizo comes in sausage form, and is eaten straight-up or in a hoagie roll, but mixing it with ground beef also makes for a burger patty with some serious personality—enough so that it's become a staple of many non-Basque restaurants, as well.
For a traditional chorizo sandwich, you can't go wrong at Carson City's Villa Basque Café—run by former sheepherder Pete Coscarart, who supplies many Nevada Basque restaurants with his famous chorizo—or Winnemucca's historic Martin Hotel.
To chow chorizo in burger form, head to Butcher's Kitchen Char-B-Que (perhaps Reno's best BBQ joint), Racks Bar & Grill (Ely), and the barroom at Louis' Basque Corner (Reno).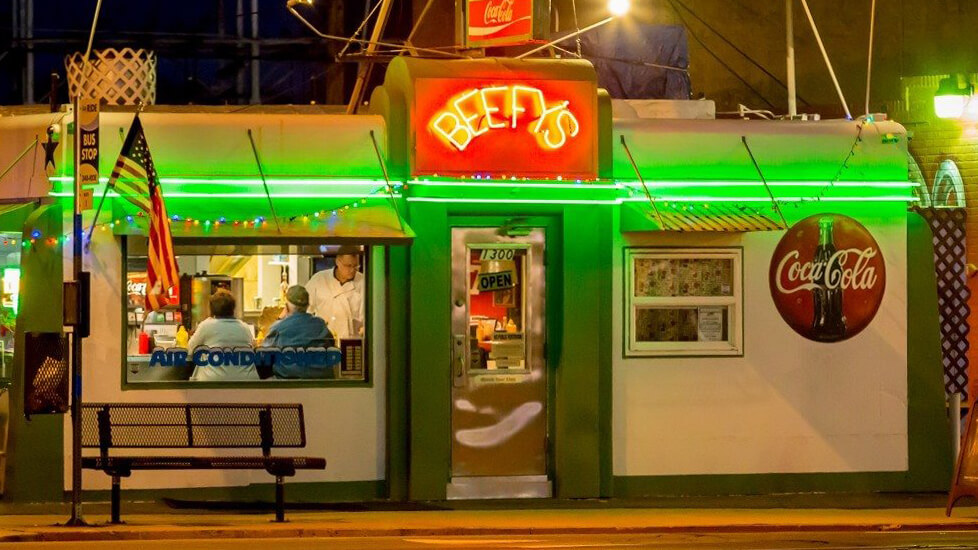 Best Burgers in Nevada
Reno, Beatty, Middlegate, Goodsprings
Sure, every state does burgers. Nevada just does 'em better.
Up in our northern metro, Beefy's of Reno whips up fresh, inventive, and gorgeously grease-tacular burgers in a tiny tin building that arrived to Reno by train in 1947. Choose from every classic style done perfectly, or branch out with flavors like the Korean Burger (with house-made kimchi) and always-wild burgers of the month—including one topped with a lobster tail. Meanwhile, the unbeatable local, regional, and international beer selection take up probably half of the several-stool joint's real estate. 
If simplicity is your thing, make a break for Beatty, a Death Valley-area town populated by carefree wild burros, where you can find cold beer and chili-topped, barbecued burgers in a small, old, wooden building called, well, Happy Burro Chili & Beer.
Get in the spirit with the Pioneer Saloon's ghost burger, aptly named for three reasons: being the speciality of southern Nevada's oldest and most haunted Sagebrush Saloon; its location in the "living ghost town" of Goodsprings (45 min outside Las Vegas, but a world away); and its toppings of pepperjack cheese, jalapeño bacon, and spicy ghost pepper sauce.
If you don't want to be haunted for life (by your pride), finish a Monster Burger—the claim to fame at 1860-built Middlegate Station, a real-deal roadhouse along the Loneliest Road in America. If you slay this multi-pound beast (and make it to the highway before "un-slaying" it), a one-of-a-kind t-shirt and bragging rights are yours forever. (Don't worry; every other burger there is also awesome, especially after a day of exploring ghost towns, hot springs, and other backcountry gems.)
Nevada-Proud Cocktails
Northern Nevada
Travel Nevada Pro Tip
There's "The first two are the Picon, the third is the Punch!" And "One's plenty, two's too much, and three's not enough!" As well as plenty of other, shall we say, more colorful sayings (just ask a local…) to describe this Basque-originated, boozy-then-bitter-then-sweet liqueur-based cocktail: the small-but-mighty Picon Punch—Nevada's unofficial state drink. You'll love this sippable rite of passage, whether you like it or not. Wanna hear more? Check out
our podcast
. 
It's no secret: Nevadans know how to mix it up and put it down. While casino-resorts and swanky lounges in Las Vegas, Reno, and beyond can whip up the best version of just about anything you're thirsty for, there are a few unique, must-drink concoctions you'll only find here. 
Picon Punch
Nevada's unofficial state cocktail—another culinary gift from the Basque country—is traditionally composed of a spritz of grenadine, plenty of Torani Amer, a lemon twist, a splash of club soda (unless you order it "Elko style," sans soda), and a stiff brandy floater, all served over ice in an Irish coffee glass. Order it at every Basque joint mentioned above, as well as at Machi's Saloon (Elko), Bruno's Country Club (Gerlach), the Heydey Inn (Wellington), and many other Sagebrush Saloons throughout the Silver State. 
Winnemucca Coffee
Everyone's heard of Irish coffee, and there are certainly some great places to find it here (we're looking at you, Genoa Bar & Saloon). But if you find the combo of whiskey and (let's be honest) Folger's a little rough on the taste buds, order your joe with an addition of brandy, anisette, and a lemon twist. This coffee cocktail was first poured by a Basque Immigrant who became the proprietor of the 1863-built Winnemucca Hotel back in the 1960s. While the historic inn is no more, the cocktail lives on at the Martin Hotel and Bakarra Basque Bistro (both in Winnemucca), Louis' Basque Corner (Reno), and at many other bars around northern Nevada.
Nevada Martini
It's neither shaken nor stirred (that'd be an explosive disaster), but it does come with olives. Sometimes quite a few of them—often stuffed with garlic, hot peppers, or blue cheese—all sinking to the bottom and waiting for you at the end of your big frosty mug of… American lager. The best olive selection we know of sits atop the bar at one of our favorite Sagebrush Saloons, Iggy & Squiggy's Junction Bar at Holbrook Junction, located between Gardnerville and Topaz Lake. Pro Tip: Order one on a Friday to wash down some killer fried fish tacos.
Nevada-Made Booze
Statewide
If there's a state more famous for bars, clubs, lounges, and generally knocking it down… well, we've never heard of it. But despite that (well-earned) reputation, Nevada's modern adult beverage landscape is marked by distilleries, wineries, and craft operations pouring some truly award-winning stuff—all of which warmly welcome thirsty visitors.
Make a spirited escape to Fallon where the fifth-generation Nevada grain growers at Frey Ranch Farmers + Distillers produce strong, top-shelf bourbon on their historic ranch.
Ever been to a meadery? You'll "bee" glad you did after a flight of delicious cocktails made from the honey-based booze at Reno's Black Rabbit Mead Co. or Pahrump's Stonewise Mead & Cider. If grapes are more your thing, head to Pahrump, where three different wineries grow and produce impressive vino less than an hour from Death Valley National Park—the lowest, hottest, and driest place on the continent.
And while Reno and Las Vegas are home to dozens of killer breweries, road trippers along the Free-Range Art Highway earn the pleasure of visiting Tonopah Brewing Co., where house-smoked brisket and other tasty barbecue staples complement craft beers, all named for the terrestrial-bound riches surrounding the historic mining community.
Breakfast Classics & Diner Delights
Winnemucca, Wells, Caliente, Boulder City
Here in the Road Trip Capital of the USA, you're never too far from a picture-perfect small-town diner, where the retro vibes are almost as delicious as the classic American comfort food on your plate.
If you rustle up an AM appetite while cruising the Cowboy Corridor across northern Nevada, slide into a booth at The Griddle in Winnemucca for famous french toast and perfectly prepared omelettes; or visit Bella's Restaurant & Espresso for top-notch java and hearty breakfast burritos before a day exploring Angel Lake.
Load up on legendary chicken-fried steaks (with a little something special in your coffee) at the Knotty Pine Restaurant & Lounge en route to explore hiking trails, mountain bike singletrack, slot canyons, and other state park-packed outdoor bliss around Caliente.
Historic Downtown Boulder City's frozen-in-time feel is always in full effect at the Coffee Cup Café, where house-made meatloaf, peanut butter pancakes, and a Bloody Mary or two grease the gears for a day exploring Hoover Dam on trails, on rails, and even on the water.
Big, Juicy Steaks
Statewide
Make no bones about it: They're exactly what they sound like. And they're damn good.
Classic Steakhouses
The Silver State steakhouse experience simply can't be topped. Think perfectly cooked cuts of beef. Fresh, hefty salads and classic cocktails prepared tableside. Sides and toppings galore. All backed up by the most exquisite professional service in the entire industry. Often in a dimly lit room oozing with old-school ambiance on red carpets, golden mirrors, and other vintage swankiness.
In Las Vegas, settle into the Rat Pack's favorite plush, red booths at the Golden Steer; or embrace those vintage Vegas casino vibes at Vic & Anthony's (in the Golden Nugget) and Oscar's Steakhouse (in the Plaza), the latter of which is operated by a famous former mayor and mob attorney.
In Reno, you can't beat the service and quality of The Steak House at Western Village and the Bonanza Casino's Cactus Creek Prime Steakhouse. Meanwhile, Ely's Cellblock Steakhouse (located, appropriately, in the Jailhouse Motel & Casino) gives you the rare chance to dine in your own private jail cell (bars and all)—not a bad choice for your "last meal" in town.
Sagebrush Saloon Saturday Night Specials
If you're hungry for old-fashioned Nevada hospitality, reserve a meaty Saturday night dinner at various Sagebrush Saloons situated in ghost towns, along wide-open highways, and beyond. This rural Nevada tradition generally involves hearty cuts of ribeye, New York strip, or prime rib; home-cooked sides; plenty to wash it all down; and lively conversation with locals and regulars who routinely make the drive for these famous feasts.
Seasons and frequencies vary widely, so be sure to call ahead for the details (and to reserve your plate) when you're road tripping near Middlegate Station, Paradise Valley Saloon & Bar G, the Outdoor Inn (Jarbidge), and Taylor Canyon Resort (Tuscarora).
Old-School Italian Eats
Las Vegas, Reno, Gerlach
Like burgers and steaks, every state's got Italian cuisine. But out here the vibe is just different. We don't just mean at some of the highest-rated bistros in the country (although those are pretty great, too), but also at a few mention-worthy restaurants founded by immigrants way back when and still serving things up the way they've always done. 
The midpoint between Reno and Sparks is home to Nevada's oldest family-run restaurant, Casale's Halfway Club. Since 1937 the very same family has been serving the very same recipes (using the very same wooden ravioli presses) that John Casale brought from Italy in the 1920s. If you don't feel like family in this no-frills joint the moment you walk in, you certainly will after cheese-heavy lasagna, massive meatballs, and maybe a few of Clint's stiff Picon Punches.
It's hard to road trip the Burner Byway and not stop at Bruno's Country Club in Gerlach, the de facto gathering place for the small town's residents and visitors alike since 1952. Although Bruno passed away at age 94 in 2017, his fabled ravioli recipe lives on. Take it from us: if you venture out to the Black Rock Desert without popping into Bruno's, you're doing it wrong.
Although the Bootlegger Italian Bistro moved into more modern digs in 2001, the family who opened their Las Vegas restaurant in 1949 still whip up the famous old-country dishes that satisfied the cravings of the likes of Elvis, Liberace, Clark Gable, Howard Hughes, and decades-worth of locals and visitors since.
Sweet Treats & Desert Desserts
Boulder City, Ely, Fernley, Pahrump, Moapa Valley
Nevadans know how to treat themselves. Reno and Las Vegas are replete with sweets—from hand-made chocolates and inventively flavored gelato to wild, found-nowhere-else concoctions like giant milkshakes that take eight people to consume. However, meander beyond the metros and you'll find some tasty ways to treat your tastebuds and sweeten your journey. 
In Boulder City, any day of hiking, biking, or kayaking earns a trip to Chilly Jilly'z, whose famous Dole Whip gives Disneyland a run for its pineapple. Also found along the Neon to Nature road trip, in Moapa Valley, The Inside Scoop promises massive banana splits and more to those fresh off of Valley of Fire's mesmerizing trails.
Death Valley Rally road trippers bound for—or better yet, returning from—the lowest, hottest, driest locale in North America owe their bodies a respite at Seemore's Ice Cream in Pahrump. Served out of the (self-proclaimed) "world's tallest ice cream stand," #WeirdNevada never tasted so wonderful.
For a taste of the old days, you can't go wrong with Steve's Homemade Ice Cream in Fernley, where huge sundaes and rotating flavors of ice cream are made with the same care the proprietor honed in a 1930s-established New York creamery. Or simply straight-up step back into the 1950s with throwback delights like malts and lime rickeys in the period-perfect Economy Drug & Old Fashioned Soda Fountain in Ely—red stools, checkered floors, and all.
All-You-Can-Eat Everything
Statewide
Nevada's always been synonymous with endless plates and night-ending food comas, thanks to our hundreds of casino buffets, found in just about every town with a casino, from Reno to West Wendover, Jackpot to Laughlin, and everywhere in between.
The spectrum is wide—some reel you in with low prices and comfort food classics, while others offer exquisite (and pricey) gourmet fare—but the principle is the same: tons of great options with no end in sight. 
But you already knew all that.
What you may not have known is that Nevada is home to the most AYCE sushi restaurants in the country. The reason? With so many top-notch casino buffets serving seafood—some of the fancier resorts still have it flown in as fresh as can be—sushi joints had to find a way to compete. And now it's just a thing—so much so that, to Nevadans, a sushi restaurant not offering AYCE lunch and dinner actually feels wrong. However, unlike casino buffets, every item is made-to-order and meant to share—and some even offer all-you-can-drink sake. You'll find dozens in Las Vegas and Reno, but also in Lake Tahoe, Mesquite, Elko, and Laughlin. 
Our advice? Ditch your diet and dig right in. Because, remember: it's all you can eat, not necessarily all you should eat. And hey, you're on vacation anyhow, right?
Get Inspired
Related Stories